Precision vise on the watchmaker's bench
On the basis of the precision parallel tool-clamping vise ESB (Swiss Made), I developed a fastening design by which it is possible to quickly and conveniently fix the vise at an angle and completely rotate around its axis also with a fixation.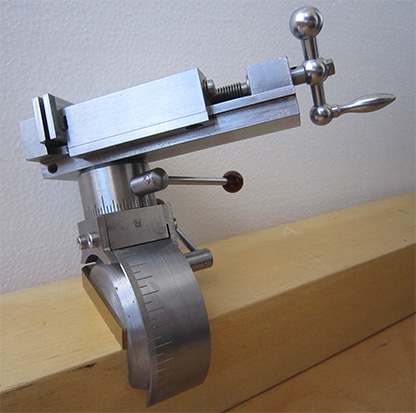 The sole plate is so, like at a precision vise 2021 Bergeon
There is a sole plate on the watchmaker's bench on which the precise vise the 2021 from Bergéon is mounted. If the vise is not needed, it can be removed from the table.
Precision parallel tool-clamping vise ESB (Swiss Made)
I bought a precision parallel tool-clamping vise ESB and made a new fixing design for them.
Metamorphosis of the vise
I made new jaws a bit wider and higher. The thickness, on the contrary, is as thin as possible, in the future this will facilitate the work. The lower part is pushed onto the sole plate and fixed. When the vise is removed, the sole plate remains on the table. The construction of the lower part I designed so that the vise began to be higher above the table in an upright position and slightly further from the table in the horizontal position. Also, you can quickly change the slope of the vise or turn it. The angle of a tilt can be changed in the range of 100°, and the rotation around its axis is all 360°. Just in case, I made a division. In any of these fixed positions, the construction remains stable.