Ivory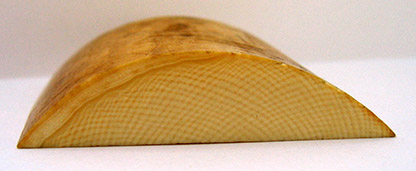 In order to protect endangered species of fauna and flora, the World Conservation Union in 1963 adopted a resolution on the signing of an international agreement. Such a document since 1975 is The Convention on International Trade in Endangered Species of Wild Fauna and Flora (CITES), which includes various degrees of protection for more than 33,000 species of animals and Plants. Since that moment, no species under its protection has died out as a result of trade. The Convention works to establish control over international trade. It requires that all imports, exports, re-exports and introductions from the sea of ​​certain species of animals and plants be made on the basis of permits and certificates. Russia became a party to the Convention in 1992, as the legal successor to the USSR, which acceded to this document in 1976.
Ivory is the dental substance of tusks of African and Indian elephants and mammoths. Very durable, easy to process. It is exported from Africa and India. In Russia, many tusks of a mammoth (an extinct elephant) are found in the northeast of Siberia. Elephant fangs reach 2.5 m in length and 90 kg in weight. The cut is elliptical, the structure resembles a tree: the surface layer is about 3 mm thick and differs little from the main mass, but sometimes it is dark. Ivory consists of 56-59% of calcium phosphate. Hardness is 2.75-3.5 on the Mohs scale. Density - 1,7-1,85 g/cm³, in the mammoth - 2,0-2,2 2,0-2,2 g/cm³.
A typical net pattern on the cut of tusks is found only in a squad of Proboscidea. But the angle in the structure of the lines of the drawing is different for each kind.
Below are given respectively the following values of the angles:
Ivory – 100-120°
Mammoth – 80-90°
Mastodon – 40-50°